12-19-19
Walking Papers is available on Amazon Prime!
That's right. All of our hard work paid off, and we're very excited at the feedback we've gotten from our short film. It won two awards in its film festival run, including Best Short Film at the Billy the Kid Film Festival, and while we didn't get to go to any of the festivals, we were honored to be a part of them. If you'd like to watch it, there's a link available on the Walking Papers tab on the home screen!
2019 has been just as busy as the last few years, just a little different. Most of our creative energy has been spent making Attorney Dean Boyd's videos and getting more familiar with the commercial video side of things. While we haven't done any narrative work since Walking Papers, we have several ideas for what we're going to be doing next. Overall, it was a fantastic year that we learned a lot from, but we're ready to get back to doing what we do best.
2020 will be a great year. Wait and see.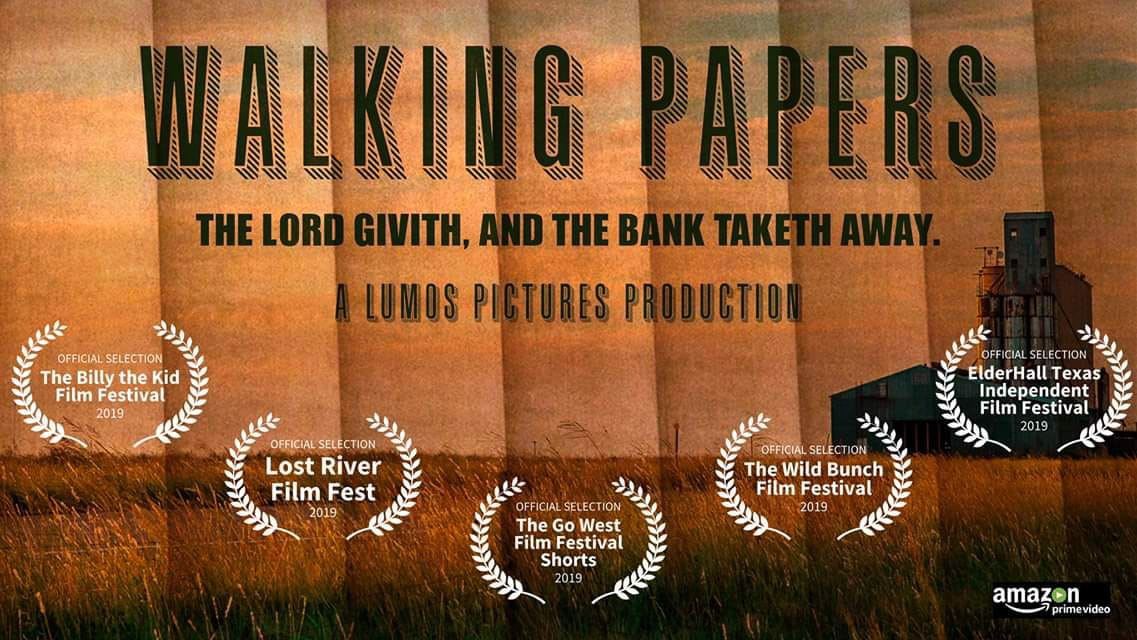 3-26-19
Greetings!
Six months later, and here we are again. At least I didn't let a whole year go by this time, amiright?
So what's up with you, how you been? That's great to hear! We've been pretty alright ourselves, just as busy as always. We have some updates to share with you! Ready?
Our film Them is finished with the film festival circuit and will be available four days from today. We won Best Sci-Fi Film and Best Supporting Actor (Todd Terry) at the Sunny Side Up Film Festival, which is very exciting. We can officially call ourselves award winning filmmakers! Whoa. Crazy, right?
Next up, our newest film Walking Papers (poster below) has been submitted to a few festivals now, and MAN is it just the greatest little film. We're very proud of it because of all the hard work our friends put into it, and WAIT until you hear the score. It's beautiful and fits so well, I don't know how we got so lucky with finding our composer. We'll let all of you know the minute it's available to watch or if it's playing at a film festival so you can go check it out if you're in the area. 
Lastly, we recently got back into doing some commercial work. Our new client, Dean Boyd "The Strong Arm", has been keeping me pretty busy with producing some brand new commercials that will be showing up on the local channels starting in April as well as a few videos on his website. This has been a pretty huge opportunity for Lumos, and I'm very grateful to have the opportunity to work with some really cool people. 
Oh. And I'm writing a book. Maybe I'll finish it someday.
As always, be sure to follow us on Facebook and Instagram, where we are WAY more active.
K bye!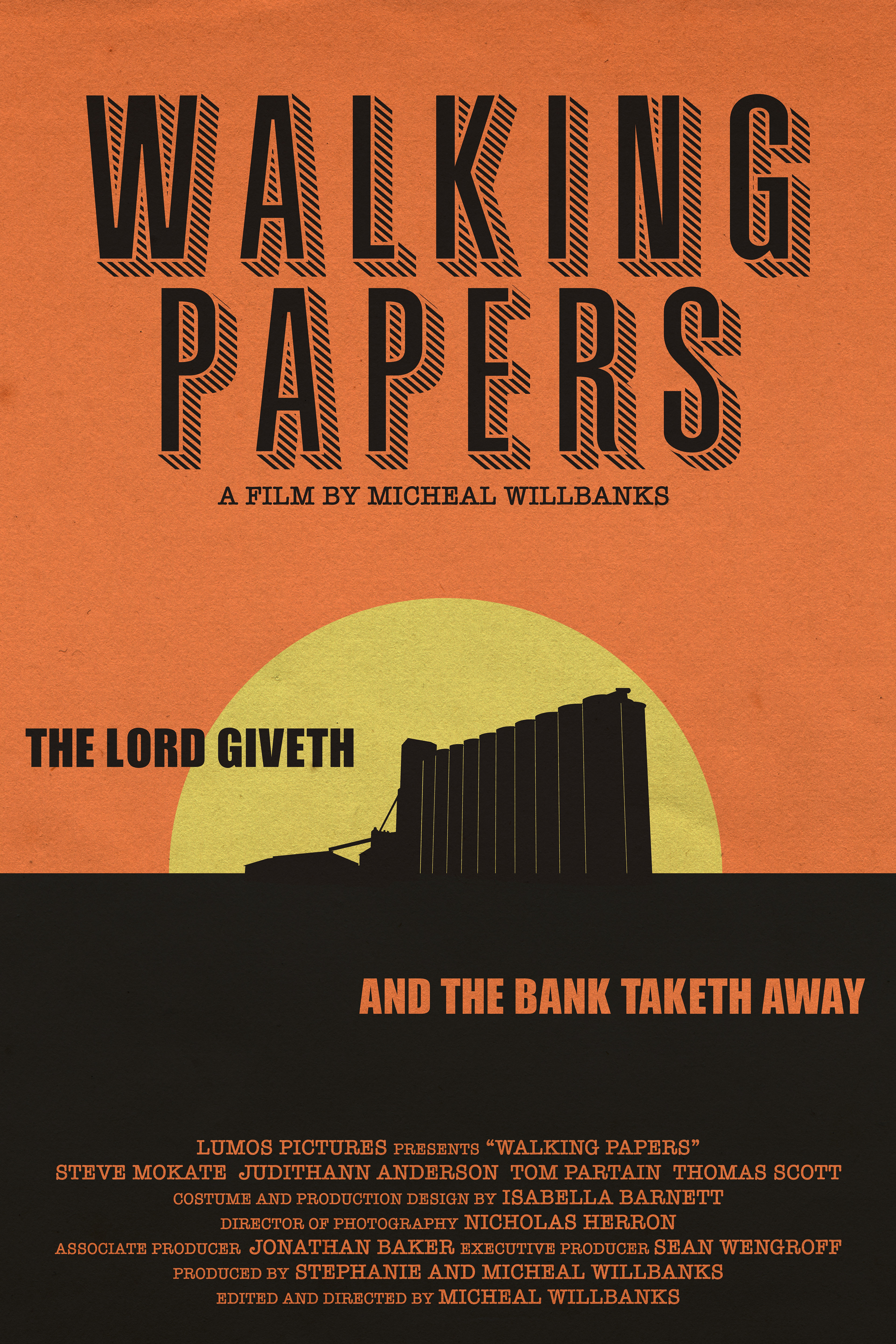 9-29-18
Man, I'm really bad about keeping this site updated. I should probably hire someone to do that eventually.
Hello there! It's been almost a year since we last posted an update on here. If you'd like updates more often, it would probably be best to either go to our Facebook or Instagram. We post on there quite often. 
The last year has been crazy. We've filmed eight total episodes of Vindication, with two more coming up in the next two months, we filmed our short film "Them" that is currently entered into several different film festivals that we're super proud of, and finally we're in pre-production on our new film "Walking Papers". This film is the subject of our GoFundMe campaign that has currently raised $500 in less than a day out of our goal of $2,000, so not too shabby!
We'll begin filming that in November, and I can't wait for you all to see it. It's my favorite script I've ever written and I think it's going to have a major payoff. 
Other than that, we've really gotten into photography over the last year. Steph and I are the photographers for a couple of different businesses here in Canyon and you can see our work if you follow either our pages, Palo Duro Crossfit, or Squeezy Street. We also have a new tab specifically for photography if you'd like to go check that out on our homepage!
That's all I have for now! Come visit us on Facebook and Instagram by following the links in the top right corner of the screen. Hope to see you there!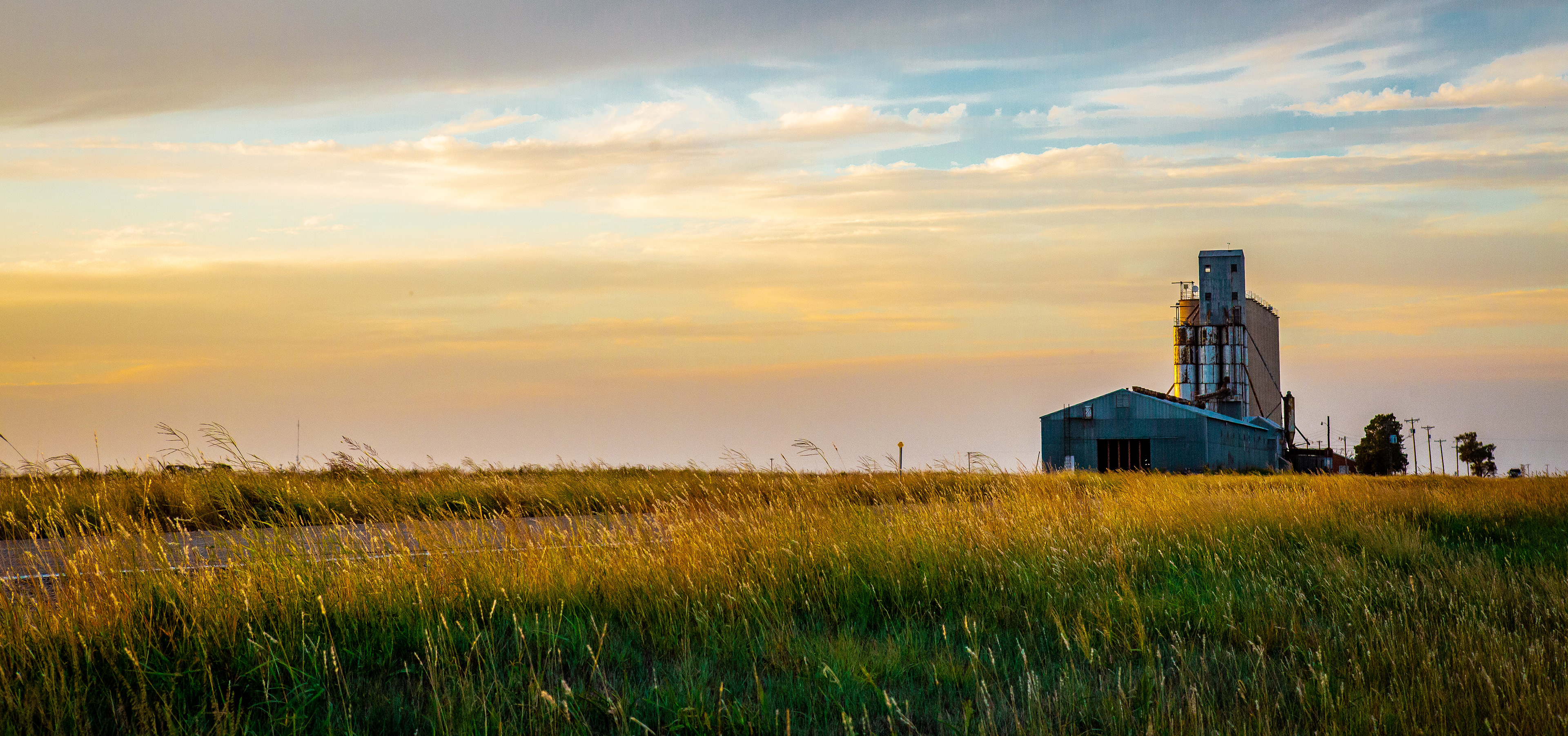 10-29-17
Two short films have been posted at our home page! If you haven't already, go check out Mimic and Parting Thoughts!
Last weekend, we filmed another short called "Fork". We ran into some difficulties along the way while filming but were able to pull it together and finish shooting it. We're about to start editing in the next week or so.
As of right now, we're also right in the middle of production of episode 3 of Vindication, a project we've been attached to since we filmed the first one two years ago. It was never meant to be a series, but the first episode (a short at the time) picked up so much traction in the film festival circuit and has had so many people interested that Jarod O'Flaherty, the writer and director, decided to make it into a series. We're having a blast on set, and meeting more talented people every day! We wrap episode 3 tomorrow and will return in two weeks to film episode 4!
Keep watching for updates and don't forget to follow us on Facebook, Instagram and Twitter!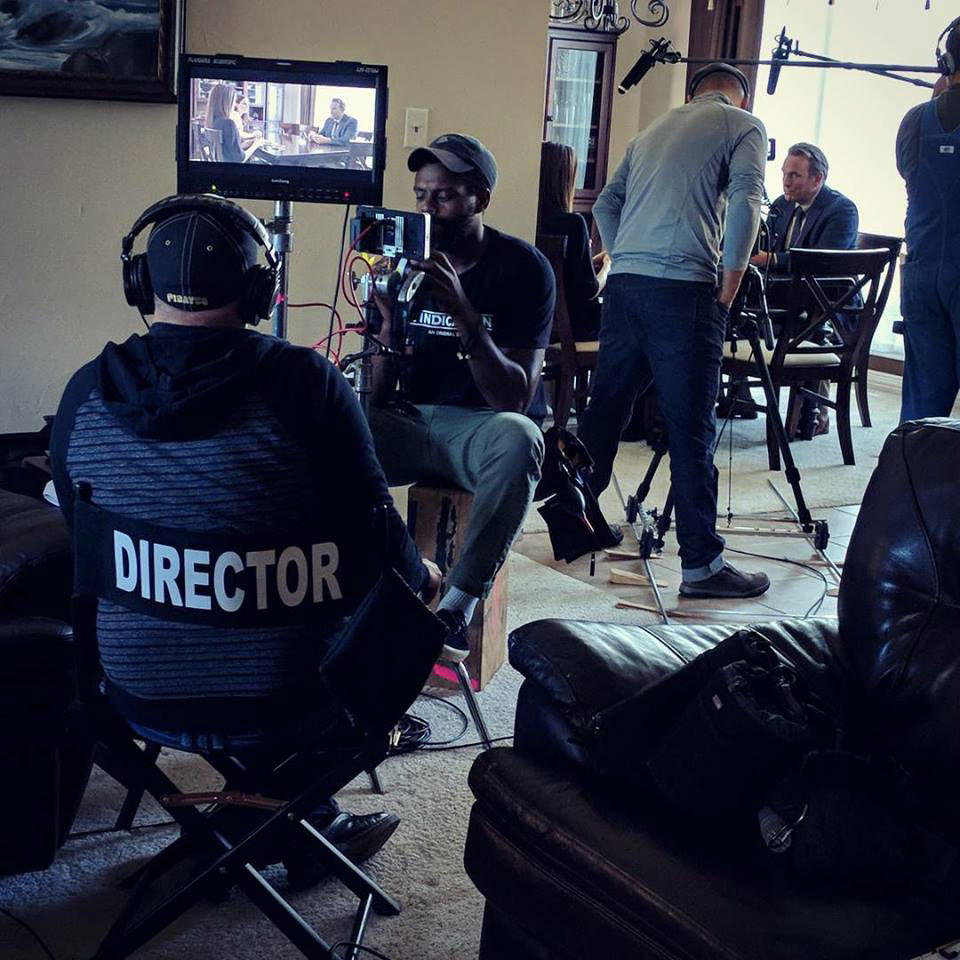 9-25-17
Now that Echo is officially wrapped up and entered into a few different film festivals, we've already started two more projects, one of which is already in post-production and the other in pre-production. We should have two more short films to put out in the next month for you guys to enjoy.
On top of these two films, we're getting ready to travel down to DFW to add a few episodes to our Vindication series that we've partnered with Flyrock Media on, trying to get the first season completed. 
Last but not least, we are also currently working on writing a brand new web series, two more short films, and a feature length film.
We're super excited to share all of this with you all when the time comes. Thank you for your continued support, and if you want to be involved in any of our future projects, send us an email at myke.willbanks@gmail.com. We're always looking for new people!